Providores and Gourmet Delicatessans
THE EDGE CAFE, GOURMET STORE AND FRUIT & VEG
Fruit & Vegies on the Run
1/139 Collins Avenue Edgehill
Tel: 07 4053 2966
Open: 7am-7pm Mon-Sat
Starting from the apex of five way crossroad with quality fruit and vegetables on the run, Andy and Loren move across the road to expand and open a wonderful cafe with indoor commune as well as street side seating.  They filled the shop with so many lovely gourmet products that they have now moved the fruit and vegetables back to the original position.  Still the best place to find quality local products all in one place.
---
RUSTY'S BAZAAR MARKETS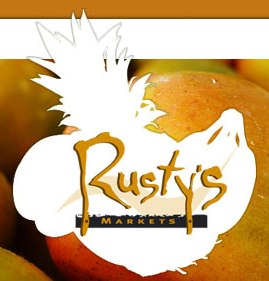 64 Sheridan Street Cairns
Tel: 07 4051 5100 or 0408 737 770
Open: Every Fri – all day Sat & Sun 6am-2pm
A tradition in Cairns, with lots of character, charm and ambiance. A unique showcase of what's in season in locally grown exotic tropical fruits, unusual tropical vegetables and local food produce.
---
STRATFORD DELI
7 Kamerunga Road Stratford, QLD 4870
T: (07) 4055 1633
Good delis are hard to find in Cairns, but hidden away in  Stratford is a charming oasis that is the perfect place to chill out and dine on fresh food and sip delicious coffee. The staff at Stratford Deli and Cafe are helpful and very friendly.   Suppliers of local produce.
---
NEILS ORGANICS
Neil Robson
239 – 241 McLeod Street  Cairns QLD 4870
T: 07 4051 5688  F: 07 4051 1898
E: info@neilsorganics.com.au
W: www.neilsorganics.com.au
Neil's Organics is an Organic & Biodynamic Farmers Market. Largest range in Cairns.
---
OLIVERI'S CONTINENTAL DELI

41 Edith Street Innisfail
T: 07 40613354
F: 07 40611850
E: info@oliverisdeli.com.au
W: http://oliverisdeli.com.au
Oliveri's an extensive range of delicacies from Australia and aboard with approx 60 cheeses as well as prosciutto, salamis, real ham off the bone, and our delicious marinated olives. We have a multitude of shelf lines including pastas, continental biscuits, legumes, first class dried fruits and nuts, pickles, and delicate lines for the home chef.
Oliveri's also stocks local produce.
---
MALANDA DAIRY CENTRE
8 James Street, Malanda (at Millaa Millaa Road apex) Malanda Qld 4885
T: 07 4095 1234
E: malandadairycentre@bigpond.com
An innovative 'retro' milk bar style restaurant, showcasing the food and produce of the Tablelands region. Also includes 'Taste of the Tablelands' retail section and an interesting tour and museum interpretive centre for the local dairy industry. The Malanda Dairy Centre also features a museum with traditional life displays, information boards, sound scapes and artifacts providing insight into the development of the region's dairy industry. Visitors can take the guided tour through the modern and operational dairy factory. Watch and experience the processing of milk and the making of delicious cheese.
---
NUTWORLD (formerly The Humpy)

1 Kennedy Highway, Tolga
T:  (07) 4095 4102
E: humpyp@tpg.com.au
W : www.nutworld.com.au
Fresh local produce and nuts, nuts, nuts!
Nutworld is the place to go for freshly harvested Atherton Tablelands produce, from vegetables to tropical fruits. And don't forget their nuts! Nutworld has hundreds of different varieties of nuts, as well as dried fruits, locally produced jams and sauces. You'll even find organic produce, including gluten free and wheat free bread. It's just near the lush green 'Tolga Scrub'
---

BLOOD ORANGE

9 Warner Street Port Douglas
T: 07 4099 4979
E: bloodorangepd@yahoo.com.au
Open: 7 days Mon-Fri 8am-6pm Sat 8am – 4pm Sun 8am – 2pm
In Port Douglas, this is where to get your local fresh fruit and vegetables, exotic and tropical fruits, vegetables, herbs & spices, homemade dips, sauces & condiments.
---
TARZALI LAKES AQUACULTURE CENTRE

Lot 3 Millaa Malanda Road, Malanda Qld 4885
T: 07 4097 2713 F: (07) 4051 2648
E: info@tarzalilakes.com
W: www.tarzalilakes.com
Tarzali Smokehouse supplies a wide range of value added smoked meat and aquaculture products for local and domestic markets. Expertise gained from third generation butcher Dave Hoffman, two time state Sausage King gold medallist, ensures the highest production standards and delicious flavours .
Blending Australian native ingredients with various meats has been a passion of Dave's for many years and the Southern Tableland rainforest location at Tarzali Lakes is ideal for developing exciting new recipes. Smoked products include Barramundi (whole & fillets), Jade Perch (whole & fillets), Red Claw, eels, chicken breasts, chicken and beef pastrami, handmade chorizo, handmade Bush sausages, Handmade Boar and Pork Sausages.