Sugar & Spice
Sugar & Spice & all things nice
---
ASIAN FOODS AUSTRALIA
Sim Hayward
15 Liberty Street Portsmith Qld
T:4035 2268      F: 4035 2628
W: www.asianfoods.com.au
100% locally made sauces. Varieties include: Sim's Hot Mango Chutney, Sim's Spicy Macadamia Sauce, Sim's Mango Chilli Sauce, Hot Mango Pickle. Asian Foods Australia Pty Ltd is the largest Queensland based Asian Food Wholesale and retail specialist outside of Brisbane. Supplies both food service, wholesale and retail markets, throughout Queensland, Torres Strait Islands and overseas.
---
ASPER PARK BAMBOO
Sue Stephens
PO Box 495 Atherton  QLD  4883
T: 07 4091 1737
susane@austarnet.com.au
Asper Park is an organic Bamboo plantation on the Atherton Tableland producing fresh Bamboo Shoots and processed 'Marinated Bamboo Shoots' for the domestic market. The marinade for the Bamboo Shoots is made with Vinegar, palm Sugar, Garlic, Ginger, Herbs and spices and free from any artificial preservatives, colours or flavours.  Bamboo Shoots are low in fat, protein and carbohydrates but high in nutrients and B group vitamins.
---
AUSSIE PEPPER
(L & L Pepperfarms)
Levis & Louis Campagnolo
Lever Estate, Silkwood 4856
T: 07 4065 2169    F: 07 4065 2353
E: llcampagnolo@bigpond.com
100% Aussie Pepper: Whole Black, Cracked Black, Fine Ground, Kibble Black, Fresh Green during Season (July to September). Aussie Pepper Gift Lines. Fresh Galangal, Lime Leaves & Turmeric.
---
AUSTRALIAN FOOD PROCESSORS
Carole Logan
PO Box 1020 Cairns Qld 4870
T: 07 4031 4031  F: 07 4031 5303
Manufactures of pies, gourmet sausage rolls, pasties, cakes and slices.
---
BESTLAN GROUP OF COMPANIES
Silvanna Morris
PO Box 982 Tully
T: 07 4068 2432   F: 07 4068 2473
Head Office 21- 23 Reward Court,Townsville 4818
T: (07) 47 29 88 88    F: (07) 47 29 88 99
E: silvanna@bestlan.com.au
W : www.bestlangroup.com.au
Production of dried, frozen, pureed and pulped products, offered in an extensive range of selected fruits. These products are supplied to food manufacturers for biscuits, confectionery, breakfast cereals, yoghurts, drink and desert mixes, ice cream and frozen confections, muesli bars and muesli. Also supply health food shops.
---
BROKEN NOSE VANILLA
Fiona George
390 Woopen Creek Road
Miriwinni  QLD 4861
T:(07) 4067-6226
E: fiona@brokennosevanilla.com.au
W : www.brokennosevanilla.com.au
Pure organic Vanilla Products: Vanilla beans, Vanilla Extract, Vanilla Paste, Vanilla-Infused Honey, Vanilla Sugar, Vanilla Tea
---
CHOCOLATE SENSATIONS
Wallace & Kathy  MacDonald
PO Box 5865, Cairns 4870
46 Spence Street, Cairns 4870
T: 07 4041 0221   F: 07 4041 1122
E: sales@chocolatesensations.com.au
W: www.chocolatesensations.com.au
Chocolate Sensations is North Queensland's only chocolatier, a speciality business which evolved from Wallace Macdonald's passion for handcrafting exclusive and individual chocolates.  Wallace combines the world's finest Belgian chocolate with fresh produce sourced from Queensland farmers. Flavours of macadamia nuts, coffee, mango and lemon myrtle, merging with the subtle smoothness of this premium chocolate.  The range includes traditional  and not so traditional pralines and truffles.
See http://pastrysensations.com.au/
---
CLOUDLANDS HONEY
Stephen & Debbie Watts
PO Box 182 Atherton  Qld  4883.
T: 07 4095 3131
E: cloudlands@austarnet.com.au
Tablelands Honey
---
DAINTREE VANILLA & SPICE

Australian Vanilla
1 Peate Close  Edmonton  QLD 4869
T : 07 40566989    F:  07 40566989
E : george@daintreevanilla.com
W : www.daintreevanilla.com
Based in the Daintree Rainforest, this is a family run business using techniques handed down through generations of vanilla growers.  A commercial growers and producers of organically grown Vanilla Beans in Australia. Vanilla Planifolia is a premium quality species of vanilla with very high vanillin content and delicious flavour.
---
FAR TOO HOT SAUCES
Hana Richards
1 Lomatia Close Redlynch Qld 4870
T: 07 40391889
Locally manufactured very hot chilli sauce. All local ingredients. All natural
---
FRESCA WILD FOODS
Fresh Pasta
Graeme Harris
383 Mulgrave Road Westcourt  QLD 4870
(07) 4033-5522   (07) 4035-5573
Established in Sept 2003 by owner/chef Graham Harris , Fresca Wild Foods now produces Australia's best and Wildest fresh pasta , natural pasta sauces, organic and gluten free pizza bases, and the Country's first fat free, spelt and gluten free pies.
---
 
FROSTY MANGO
65 Km North of Townsville on Highway No: 1 Bruce Highway
North Queensland, Australia
T:  07 4770 8184   F:  07 4770 8103
E: frostymango@bigpond.com
Frosty Mango is a must do stop over between Townsville and Cairns to rest and refresh!  The cafe offers their famous Mango Chicken Special and a great Jackfruit Curry .  Home made Mango Ice-cream, Mango Cheesecake, Mango Trifle, Mango Muffins, Mango Smoothies and tropical james.
---
GAGARRA HONEY PTY LTD

Australian HoneyRod Marti
1347 Tumoulin Road, Tumoulin 4872
PO Box 171, Ravenshoe 4888
T: 07 4097 6468     F: 07 4097 6116
E : honey@gagarra.com.au
W: www.gagarra.com.au
Specialising in 100% natural 100% pure gourmet Australian honey and beeswax
Gagarra produces honey that captures the natural and rich flavour of the region's unique flora
---
Joseph Hasham
Shop 12/117 Sheridan Street, Civic Shopping Centre, Cairns 4870
T: 07 4031 5594
F: 07 4031 5605
Hasham's Dips is a family owned and operated company that was established in 1998. Hasham's dips were originally started at Rusty Markets in Cairns with about ten dips and pesto products. They now make around twenty gourmet dips, Tapanades, pesto's and marinated vegetables using traditional recipes with fresh local produce. All dips are made with the most natural ingredients; made fresh, contain no artificial colours or preservatives.
---
HIGH COUNTRY OLIVE GROVE
Kel Jenkinson
PO Box 271, Herberton 4887
RN 6 Elms Road, Wondecla 4887
T: 07 4096 2399   F: 07 4096 2752
E: robinsonbk@westnet.com.au
Organic Olive Grove at Wondecla. 200 trees (Helena, Kalamatas, Paragon, UC13A6, Amanzanillo). Producer & Manufacturer of Olive Oil, Avocado Oil, Olives.
---
 HONEY HOUSE KURANDA
Trish Green
Original Kuranda Markets
Therwine Street, Kuranda
PO Box  668 Kuranda 4881
T: 07 4093 7261
E: honeyhouse@bigpond.com
W: www.honeyhousekuranda.com.au
Free honey tasting, live bee display, premium, medicinal and gourmet honeys, fresh honeycomb, beauty products and souvenirs.
---
KURANDA COOKIES
Geoff Pardew
T: (07) 4093 7282
Great homemade cookies and shortbreads using local ingredients.  Macadamia, Pecan, chocolate.
---
KURANDA CANDY KITCHEN
Ross Breadsell
Shop 7, The Village Centre, Coondoo Street, Kuranda 4881
T: 07 093 9363   F:  4093 9363
info@kurandacandykitchen.com.au
www.kurqandacandykitchen.com.au
Situated in the heart of Kuranda, a visit to this candy kitchen will take you back to your childhood where you can watch the candy being made.  Manufacturer of yummy old fashion Candy, Wedding Candy, and Corporate Candy.
---
 MANNINGS PIES
194 Newell St, Westcourt, QLD, 4870
T:(07) 4054 3077
---
MELDRUM'S PIES
97 Grafton St Cairns City QLD, 4870 Australia
T: (07) 4051 8333
Proven to make the best Aussie pies this state by a string of Gold medals and very content locals. Melt-in-your-mouth pies, delicious bakery sweets and a lunch menu packed full of flavour.
---
 MARY MAC'S INSTANT BATTER
Mary McCormick
127 Mourilyan Road, Innisfail 4860
T: 07 4061 1332   F: 07 4061 6620
E: marymacks@austarnet.com.au
W: www.marymacks.com.au
Manufacturer of Instant Batter & Coating Mix for domestic and food services use, with exports to Singapore & New Zealand
---
 MARY'S PASTA PRODUCTS
Bert Pagano
21 Main Road, Moresby 4871
T: 07 4063 2463  F: 07 4063 2466
E: maryspasta@bigpond.com
Manufacturer of fresh pasta – Ravioli – ricotta, chicken, tortellini, gnocchi and a range of frozen fettuccini, spaghetti sauce.
---
 NORTH QUEENSLAND HONEY
Steve Golinelli
Shop 9-11, 33 Hannam St,Westcourt, QLD. 4870.
PO Box 5068,Cairns, QLD. 4870.
T: 07 4051 5034   F: 07 40516034
E: info@aussieproducts.com.au
W: www.aussieproducts.com.au
Distributor of honey,honeycomb and honey products
---
 PASTRY SENSATIONS
Kathy & Wallace MacDonald
PO Box 5865, Cairns 4870
4/78 Fearnley Street, Cairns 4870
T : 07 4041 0221   F: 07 4041 1122
E: sales@pastrysensations.com.au
W : www.pastrysensations.com.au
Pastry Sensations is a young, innovative Cairns company that we created in 2003 as a sister company to our outstandingly successful Chocolate Sensations.
Based in Cairns, Pastry Sensations has filled a niche in the market for wholesale customers (featuring in hotels, restaurants, cafes, airlines and meeting venues) as well as retail customers seeking cakes for special occasions or an every day indulgence.
 _________________________________________________________________________________________
RAINFOREST BOUNTY
Geraldine McGuire
PO Box 73 Malanda Qld 4885
Phone: 07 40968026
Fax: 07 40968056
Email: info@rainforestbounty.com
Website: www.rainforestbounty.com.au
 
Rainforest Bounty quality conserves, sauces, pickles and syrups products are proudly created on the picturesque Atherton Tableland from native rainforest fruits. Our growers are local farmers who are committed to sustainable agricultural and food manufacturing practices.
Some of the native species we grow include: Davidson plum, lemon aspen, fingerlime, native tamarind, Atherton nut, water cherry and other lillypillies.
 ___________________________________________________________________________________________________
SIMPLY HAMPERS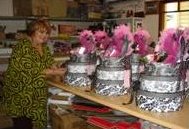 Jill Morris
19 Tamar Close, Mount Sheridan, QLD 4868
T: 07 4045 1605  M:0438 121 523
F: 07 4045 5655  S: Jill.Morris2
E: jill@simplyhampers.com.au
W:  www.simplyhampers.com.au
Beautiful hampers for all occasions containing fine food, flowers and a fabulous gift and are designed to be a 'celebration to go'. At simply hampers, we take pride in sourcing the finest food items available from Australian boutique producers and local 'food heroes' where possible.  Show off the regions products to family, friends and clients. From corporate gifts to special occasions of Valentines Day, Birthdays and Anniversaries etc. There is a hamper to suit.
---
SPICEZ SRI LANKAN CURRY KITS
Zana Wright
Kuranda
T: (07) 4093-7028   F : (07) 4093-7028
E: spicez@bigpond.com
Mixed spices, curry combinations and rubs. Designed to take you on a journey into this exotic world of spices, SpiceZ Sri Lankan Curry Kits offers you all the dry flavouring herbs, seeds and carefully blended spice to create authentic Sri Lankan Curries.
The flavouring herbs of Lemongrass, Rampe and Curry leaves are locally grown, harvested and dried to ensure quality and freshness  with spices that are hand roasted ground and blended North Queensland.  All you have to add are the fresh Ingredients which include the Meat or Seafood or Vegetables, Onions, Garlic and Ginger, Tomatoes, Vinegar, Lime juice.
These beautifully packaged Spicez Curry Kits are a sensational convenience ingredient base that are 100% natural, no artificial colours, flavours or preservatives, gluten free and n MSG or fillers.
 
---
STAY FRESH
John & Gina Torrisi
Spring Road Mount Abbot Qld
T: 07 4093 2212   F: 07 4093 2146
Producer of Australian Basil sauce and Fresh Basil.
---
TIN FORK
Marianne Coady
45 Hynes Street
South Johnstone
T: 4064 3418
Not only does Marianne serve stunning lunches, morning & afternoon teas using tropical food in the most delightful way, she is very creative in the production of food products you can buy at her little cafe.   Beautifully packaged Ooray (Davidson Plum) paste, jelly and syrup, Zinga relish of pineapple, mango and golden chilli, Ginger cordial and Passionfruit syrup, Jungle Teas of Ooray and ginger, and other exotics. Ice-creams that are pure and tropical.
 
---
 THE TERMITES
Brian Herbohn
3823 Kennedy Hwy Mareeba
T: (07) 4093 3197
Manufactures a variety of preserves and sauces from local tropical fruits and vegetables
---
TROPICAL HARVEST QLD PTY LTD
Kevin & Linda Abell
Dingo Pocket Road, Tully QLD 4854
PO Box 624, Tully QLD    4854                             
T: (07) 4068-2851
E: sales@tropicalharvestqld.com.au
W: www.tropicalharvestqld.com.au
Tropical Harvest provides quality dried fruit products while retaining the natural flavours without preservatives and chemicals.  Banana, Mango, papaya, pineapple and other exotic tropical fruits
---
 TROPIC SPIRIT PRODUCE
43 Shields Street, Cairns
T: 07 4051 0100 F: 07 4051 0025
E: info@ochrerestaurant.com.au
W: www.ochrerestaurant.com.au
Tropic Spirit ProduceProduced by the multi award winning Ochre Restaurant and Catering the Tropic Spirit range consists of fabulous Australian products such as Capsicum Jam, Pineapple and Chilli Jam, Dukka, Spice Mix and many more.  For more information or to order go to the Ochre Restaurant website.
---
 WALSH RIVER PRODUCTS
(Trend Products APA Pty Ltd)
Josef Egger
PO Box 229, Dimbulah 4872
T: 07 4093 5375    F: 07 4093 5375
E: josef.egger@trendproducts.com.au
W: www.walshriverfarm.com.au
Organic growers of the (Cucurbita Pepo var. Styriaca) Pumpkin seed and producer & manufacturer of organic pumpkin seed oil   This cold pressed certified organic Pumpkin Seed Oil contains unsaturated fats such as Omega 3, 6 and 9,trace elements like Potassium, Phosphorus, Magnesium, Calcium, Iron, Copper, Manganese, Selenium, Zinc and important Vitamins (E, B1, B2, B6, C, A, D).
---
WARRIGAL DYNAMIC FOODS
140 Gilmore Road, Emerald Creek
T: 4093 3193
A 100-acre farm growing certified biodynamic organic mango, bananas, and other fruit and vegetables. Fresh produce and dehydrated mangos and bananas.  Available from Neils Organic's Superstore.
---