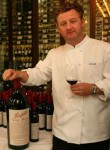 Internationally renowned celebrity chef, Luke Mangan, will be taking his culinary expertise to sea with the launch of a signature restaurant, Salt Grill by Luke Mangan.
This restaurant will be on P&O Cruises' latest superliner Pacific Jewel, due to call Sydney her new homeport from December 12 this year. Salt Grill by Luke Mangan will provide an exclusive dining experience on this superliner. The charge for this new alternate dining room will be around $30 per person.
This is the first time an Australian chef has been brought onboard a cruise ship a to exceed the expectations of passengers.
Trained in French cuisine, Luke Mangan said he was excited to take his love for cooking to sea on Pacific Jewel.