Red Emperor
Red Emperor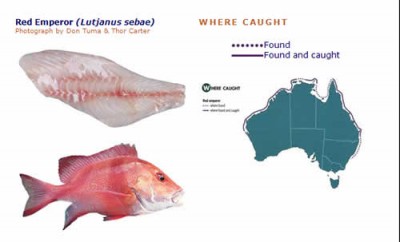 When Caught
Year round
Important Features
Wild/Farmed Wild
Habitat Saltwater Found on shallow to deep rocky bottoms
Recovery Rate Fillets: 38% from whole red emperor
Blacktip Rockcod Research
FRDC provides a comprehensive search of the latest research papers and images on Red Emperor
Remarks
Red emperor is a very highly regarded and immensely popular species.
When buying to bake whole, make sure the fish you select will fit in your oven!
Imports Myanmar, Singapore, Thailand and Vietnam: frozen fillets
Common Size >70cm
Overseas Names
GB: emperor red snapper, red emperor; J: akamatsu, sen-nendai; RI: gajah; SGP: ikan merah boreng, shi tou hong ji; T: pla kapong-deang, pla kapong-naa-tang; USA: emperor snapper; ZA: emperor snapper, keiser-snapper
Grading Not usually graded
Cooking Ideas
| | | |
| --- | --- | --- |
| Bake |   | Deep Fry |
| Grill/barbecue | Poach | Raw |
|   |   |   |
| Shallow Fry | Smoke | Steam/microwave |
The red emperor is a superb finfish to eat and its white, juicy flesh is delicious served either hot or cold. It is a stunning finfish for display, both for its bright red head and skin and its impressive size. It can be cooked whole (gilled and gutted) by baking, steaming, or deep frying, but is also ideal in fillet form for grilling, barbecuing, steaming and frying. If deep frying or grilling whole larger varieties, score the flesh first.
The flavours of teriyaki complement this species and it can be marinated in similar flavours. Try poaching in coconut milk or apple cider for a refreshing change.
The gut cavity can be filled with a mixture of herbs, rice, breadcrumbs and nuts before baking.
The skeleton and head are excellent for use in stocks, sauce bases, soups and bouillabaisse. The wings are superb crispy deep fried.
Flavour:Medium
Oiliness: Low
Moisture: Moist
Texture: Medium
Flesh Colour: White
Bones: Few large bones, which are easily removed
Price: Red emperor is a high-priced finfish.
Suggested Wines
This spectacular-looking species has a medium flavour that lends itself to young, lemony rieslings from the cool climate regions, such as Tasmania, Coonawarra and Mt Barker.