Coral Trout Ceviche
CORAL TROUT CEVICHE and rice noodle salad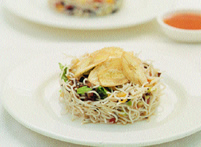 Recipe Courtesy: Silky Oaks Treehouse Restaurant
Recipe for 4 pax
Ceviche:
200 gm fresh coral trout filet
10 gm finely diced ginger root
1 each finely diced red chilli
3 each lime juice
¼ bunch coriander finely chopped
½ stick lemon grass chopped as fine as possible
100 ml coconut milk
Place all the finely chopped ingredients in a bowl.
– Add the limejuice, coconut milk and a little salt. Mix thoroughly.
– Slice the coral trout as thin as possible, removing all bones.
– Place the sliced trout in the lime and coconut mixture and allow marinating overnight or just a couple of hours for people liking the "raw" texture of the fish.
100 gm Rice sticks noodle, cooked and rinsed
½ punnet wood ear mushrooms
50 gm finely diced paw-paw
25 gm finely diced red capsicum
25 gm finely diced roma tomato
10 gm picked coriander & mint leaves
20 gm freshly grated coconut
10 gm chopped celery leaves
1 each very green banana, thinly sliced and deep- fried for garnish
Dressing:
100 ml Sweet chilli sauce
2 each Lime juice
2 each Lemon juice
¼ bunch Picked coriander leaves
10 gm Palm sugar
½ each Fresh chilli
Few drop of fish sauce to taste
– Place all the ingredients in a bar blender.
– Blend thoroughly.
– Keep refrigerated.
To put the salad together, toss all the salad ingredients with a little of the dressing.
Serve chilled with wakame salad on top.